The desire for safety stands against every great and noble enterprise. –Tacitus
Danger. And opportunity.
Risk. And reward.
I thought about these things as I was watching the Weather Channel from the warmth of the Dunkin Donuts… just before my wife, Ann, and I headed off into the White Mountains for a day of climbing.
The weather folks – all wearing arctic gear and carrying yardsticks – were sounding the alarm: a nor'easter bearing down; a dangerous storm; a storm of historic proportions. Cataclysmic even.
Buy batteries; and flashlights; stock up with food and water; stay inside; hide out; don't move.
We moved. And climbed and laughed and shivered. The wind tossed us around. But we experienced the beauty and the grandeur and the power of the storm. We connected with the mountains we so love; and with each other. We had a blast.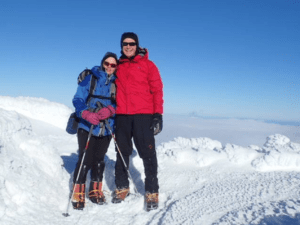 The Chinese symbol for danger is also read as opportunity.
The truth is, there is no reward without some risk.
But sadly, as a culture, we're told that risk is bad. Playing it safe is "in."
Insure everything; protect it all; risk nothing.
But here's another sad truth: When we play it safe, we play small.
It is those who have dared to push beyond the boundaries in medicine, science and technology; those who have dared to defy the odds in adventure, athletics and exploration; those not concerned by perception or bound by convention; who lead the charge, who make the breakthroughs, give us wonder, and reap rewards.
In every recession giants of industry and enterprise have been created. In every market crash millionaires are made.
In every arena victory belongs to those who confront their fears and, in the face of failure, in the face of risk, step boldly forth.
Meg Cabot writes, "Courage is not the absence of fear, but rather the judgment that something else is more important than fear. The brave may not live forever, but the cautious do not live at all."

Leadership expert Robin Sharma says, "Do work that scares you (If you're not uncomfortable often, you're not growing very much." As entrepreneurs, he says, "We're paid to be scared. We're paid to play out on the edges."
The message of my own book Journeys on the Edge is that life is lived most poignantly out there; that we come most alive out there on that edge.
Of course, we can cower. And many will. But none of us will get out of this thing called life alive.
So why not dare to dream; dare to live out loud; dare to play full out?
Dare to make your life extraordinary.
Eleanor Roosevelt said, "Do one thing every day that scares you."
What will it be for you today?
++++++++
About the author:
Walt Hampton is the President and Chief Operating Officer of Book Yourself Solid® Worldwide, an internationally acclaimed motivational speaker, success coach, and bestselling author of "Journeys on the Edge: Living a Life That Matters."
He delivers high-impact, multimedia keynotes at high schools, on college campuses, at corporate events and at gatherings of professional associations.
To find out more about Walt, click here to visit his website.